Lifesaving Internet Action for Darelle "Dajed" Montojo




 

From Despair
to Hope

"Yes they arrived fine, and Dajed has already finished her pre-admission testing. The surgery date is not firm yet, but look like it should be this Thursday, the 27th of September.
We have a wonderful time getting to know each other"
Erica, GOL/Rotary 7490





BOES.ORG & Rotary Gift Of Life New Jersey, in International Co-operation
Update Page nr 2 of 2       back to update 1       Last Update, January 2, 2002

 
Date: Fri, 28 Sep 2001 20:32:42 EDT, From Erica Topp, secretary
Gift of Life Foundation of Rotary District 7490, New Jersey, U.S:
 
Dajed came through surgery very well.
It was a very long, 7 ½ hour surgery. It seemed even longer for those of us in the waiting room, at Montefiore Medical Center in the Bronx in New York..
They finally let us see her around 5:30 last night. She was still unconsious but was reacting to both her mother and my own voices.
 
They removed the ventilator this morning, it was in a little longer than they would have liked, but it was needed. She seems to be on the right track to healing. It has been a very trying time for Jenny, but her faith in our Lord is holding her strong.
 
The hardest part will be to keep Dajed in bed in the days to follow when she regains her strength!! She sure is an active little girl!
 
Students are Sponsoring Dajed's Surgery.
Over the 2000-2001 school year, the money to sponsor a Gift of Life child was raised through coin drives, flower sales, walk-a-thons and corporate donations. Each and every club member dedicated time and money to reach this goal. In May of 2001. Now that the club had raised enough money, we were ready to continue with other projects and wait for our child. Manchester Regional HighSchool Interact Club as Gift of Life Child was assigned in July of 2001, with an arrival date of September 2001.
"Our club was anxiously awaiting the arrival of Darrelle, nicknamed Dajed, so that we may play a part in saving the life of a child".
 

Manila-Osaka-Detroit-Newark
Diary, from Dajed's mother Jennifer Montojo.
I'm so sorry it took me so long to update you. The situation is hard here considering that I'm the only one taking care of Dajed and had difficulty adjusting to the American culture and time. It was only last night that we were able to sleep at night. Dajed's body clock knows that when it's nighttime here, it's daytime in the Philippines. Nobody's home during the day so we're basically alone in the house the whole day. The pictures were not yet developed, so I'll just send them to you later.
Jenny
 
Sept. 18 Dajed and I flew to New Jersey via Northwest Airlines with the route Manila-Osaka-Detroit-Newark.
It was a 21-hour travel with two stopovers. It was extremely stressful for both of us to travel that far. Dajed had colds and she would not eat anything and felt like throwing up. Most of the time she was crying and could not sleep. The airport personnel were very accommodating, they gave us assistance with the step by step procedure and accompanied us to our next destination. We were met at the Newark International Airport at 7:00 PM by our host family members: Andrew (the chairman of GOL), Erica (the eldest) and Linnea (the youngest) and some Manchester Interact Club members. They had the banners of GOL and MRHSIC and Erica gave Dajed a cuddly bear with 3 balloons.
Our first night was a very difficult one, we were tired but Dajed could not sleep because she knows that it was daytime in the Phils. and she kept on asking for her favorite pillows and stuffed dolls.

 
Sept.19 We finally slept at 10:00 AM but I had to wake up after 4 hours to do the laundry and cook Dajed's food. We were about to meet with the Manchester Interact Club at 3:30 but Dajed and I were still having jet lags so we did not go.
 
Sept. 20 We woke up very early in the morning, having only 3 hours of sleep because we had to meet with Dr. Issenberg at the Montefiore Medical Center. Andrew or Andy drove us to the hospital at 8:00 AM. Dr. Issenberg is such a very nice man, always smiling and he did the echocardiogram and admitted Dajed for her cardiac cath the following day and blood work, X-ray and other tests. Dajed was very sleepy but she wouldn't want to lie down on her bed and she wanted to be carried most of the time. The doctors were amazed to see a kid who just sat still during IV insertion. I met 2 Filipino nurses and they took care of everything we needed. Some nurses who heard Dajed count numbers and recited the alphabet, told me to send her to a genius school. We were wide awake throughout the night and stayed in the hospital's playroom because she was crying everytime we went inside her room.
 
Sept 21 Starting 2 AM, Dajed was not allowed to eat or drink anything because her cardiac cath was scheduled at 7:30 AM. They put her to sleep and her bed was wheeled to the cardiac cath room. Thank God she slept throughout the procedure and she was still drowsy when they gave her to me after an hour. They just put a band aid on her groin where the cath was inserted. We were discharged at 4 PM and Andy took us straight to their vacation house near the beach at Lavalette, NJ where his family was waiting for us.
 
Sept. 22 Dajed had some fun in the seashore and played in the sand. The water was cold and we could not swim. We went home at 4:00 PM and we were extremely tired. Finally Dajed was able to sleep through the night.
 
Sept. 23 The family took us to the First Reformed Church of America where Andy is a minister. Dajed went to Sunday School but she was so excited and wandered around. In the afternoon we had a little fun in the yard of the Topp's house. My dad's second cousin who's living in Secaucus, NJ came here to visit us and brought some goodies. She wants us to go to her place after the surgery but we were only allowed by GOL to stay with her for a day (policy).
 
Sept. 26 Laura Fischer, the cousin of Erica, drove us to the Manchester Regional High School in Haledon, NJ. We met their guidance cousellor and the members of the Interact Club which was founced by Erica Topp and currently serves as its president. It was a very touching moment to meet these young teenagers who raised the needed fund and played a big role in saving the life of Dajed. About 47 members attended the meeting, after a short "thank you" speech we had some group pictures.
 
Sept. 27 This is the day we've all been waiting for - Dajed's surgery.
 
5:30 AM - left Haledon with Andy
 
6:00 AM - went straight to the O.R. admission of the Montefiore Medical Center. The nurse gave Dajed a gown and shoes to wear, took the vital signs and entertained her with toys. Dajed was playing not knowing that she'd undergo surgery. I was holding her close to me praying to God to give me the strength to trust in Him completely.
 
8:00 AM - Dr. Gregory Crooke, the surgeon explained to me the procedure and the risks involved. I was given a scrub suit and was allowed to enter the O.R. Dajed was crying and calling Andy's name. Rosanna, a Filipina heart and lung machine operator approached me and gave me comforting words. They put a mask on Dajed and put her to sleep. I was squeezing her hands and could not let go of her. I was crying when I left the OR. I stayed in the O.R. family waiting room where I was able to talk to the family members of other patients. I was completely relieved when a Christian black lady prayed for me and Dajed and gave me a devotional booklet.
 
2:00 PM - Andy, Erica and Laura came and I was so happy to see them giving me full support.
 
4:00 PM - Dr. Crooke told us the the surgery is successful and Dajed is doing good.
 
5:30 PM - We were able to see Dajed at the Pediatric Critical Care Unit. It was only the grace of God that I did not pass out seeing my daughter in such a pitiful situation having all the stitches, 3 tubes on the chest to drain the blood in the lungs and heart, urine catheter, IVs on the neck, foot, hand and groin and a tube on the mouth (respirator). When she heard my voice, I knew that she wanted to open her eyes because she was crying but no voice was coming out because of the intubation. She slept the whole night and I stayed in the hospital's family room. She had a slight fever which was normal after the surgery. The nurse on duty was a Filipina.
 
Click for U.S. Photo Menu!
 
Sept. 28 She was extubated (respirator was taken out). She was breathing on her own but they placed an oxygen cannula (mask) to support her. Oxygen saturation was very good 95-100 unlike before the surgery when it was only 75-78. Dajed started calling my name in a very soft voice and I was so glad to see her beautiful smile again. She was given Morphine as pain reliever. She ate 2 cups of ice chips, must be very thirsty. She started coughing, the lungs are clear, they said that it is normal after being intubated. To avoid pneumonia, she needed chest teraphy of beating up of the chest and back.
 
Sept. 29 The urine catheter, IVs in the groin and foot were taken out. She was still coughing and refused to eat anything. I had only few hours of sleep, the nurse would wake me up everytime she'd cry. Dajed is very quiet when I'm beside her.
 
Sept. 30 She had loose bowel movements. She became irritable because of her cough. My aunt came and gave Dajed 2 Barbie dolls. Jennifer, my college friend who's working here in NJ came very late at night with her husband. It was a very emotional moment because I've never seen her after graduation. Their presence and moral support somehow gave rest to my weary soul and body.
 
Oct. 1 Two chest tubes were taken out and left the one connected to her lungs. She's still on Morphine. She stood up and took some few steps for the first time but then she started to complain of stomach pain, we're not sure if it was gas pain or from the chest tube. She was crying most of the time and the doctor allowed me to lay down beside her so she will feel comfortable. Her cough is not a respiratory illness and no medications were given. She had not taken any food but ice cream.
 
Oct. 2 She had 4 x-rays, when everything was found to be okey, the remaining chest tube was taken out. I could see Dajed's smile right after it was taken out, she was relieved. She began walking in the corridors, entertained the nurses with her dance, counted and recited her alphabet. She hugged everyone and they were saying that she's so cute and smart.
 
Date: Wed, 3 Oct 2001 16:02:41 EDT. Erica Topp writes:
Dajed is being discharged from the hospital today. We are about to be leaving to pick her up. She doing very well, and is anxious to return "home" to play with the other children-- My siblings.
 
Dajed's Mother Jennifer:
Oct. 3 After her chest x-ray, the discharge order came and Andy picked us up at 7:00 PM. Dajed was so glad to see the Topp family again. She still refuse to eat and would frequently throw up. Her next check-up is on Oct.10 where she will have another x-ray and echocardiogram. She was given Lasix(a diuretic) as take-home medication.
 
Oct. 4 Dajed has become so conscious about her scars and would not want her dress to be changed. She was complaining of stomach pain and I gave her Tylenol. Her cough irritated her so much. I know that she was in pain because she was stooping down while walking.
 
Oct. 5 She was having gas pain and Karen gave her a medicine for upset stomach, I think it's normal after the surgery to have so much gas in the stomach. She seems to be very happy when the Topp children are around but she's totally bored when they're at school and always tell me that she wants to go home to her daddy. She's still coughing.
 
Click for U.S. Photo Menu!
 
Date: Tue, 9 Oct 2001 11:49:46 -0700 (PDT)
From: Emmy C. Collado, M.D. Pediatric Cardiologist Philippine Heart Center
Link to incoming e-mail.
 
Date: Wed, 10 Oct 2001 18:31:06 EDT, From Erica Topp, secretary
Gift of Life Foundation of Rotary District 7490, New Jersey, U.S:
We just returned home from the Interact Club meeting which Dajed and Jenny came to say goodbye to the club members at. It was a tearful event. Dajed has part of her final appointment today , and tomorrow will be the restand should get totally cleared by the Doctors. Her return flight is tentively booked for Sunday. As we are realizing that their time here is limited, it gets harder to think about saying goodbye. As all the Gift of Life Children, Dajed and Jenny have become part of the family! At the meeting today, a photographer and Reporter from one of our newspapers were their and are writing a story that should come out soon. I will let you know. Hope all is well in Sweden!

Dajed's Mother Jennifer, back again in her diary:
Oct 10 Dajed had her final check-up, x-ray and echocardiogram at the Montefiore Medical Center.
We were accompanied by Andy and John Hartman, ex-governor of Rotary Dist. 7490. It was nice to know that John was with Gen. Douglas McArthur in the Philippines during the World War II. Everything was clear including her lungs but we had to come back the following day for the final clearance with Dr. Carl Steeg, director of Cardiology Dept.
We went straight to Manchester Regional High School to say farewell and meet the media people from a NJ newspaper, the Record. Tears could not be stopped as we announced our departure date. The reporter interviewed me and the other members, the story will come out on Fri, Oct. 12.

Oct 11 It was a long day. We were invited to attend the Paterson Rotary Club meeting at the Brownstone Restaurant. Karen, Erica and Laura were there. I was asked to speak about how I came to know about GOL and the success of the surgery.
After the meeting, Art Scialla, ex-governor of Dist. 7490 and the one who started Gift of Life, drove us to the house of Peter Garafano III, a Paterson Rotarian who hosted a GOL child before, he accompanied us to Montefiore for Dajed's clearance. It was so inspiring to talk to a successful businessman yet has a very humble heart. We went to Dr. Steeg's clinic where she had her EKG and vital signs, Dajed hated check-ups after her surgery and she was screaming out loud. Dr. Steeg finally gave us the clearance but I felt sad when he told me that there's a small leak in her homograft but it's 99% that she'll not need another surgery but if the leak will become a problem someday then we had to go back to NY for another surgery. He also told me that children with Tetralogy of Fallot will never have normal hearts even after the corrective surgery. She'll be taking Furosemide as a diuretic until she's seen by our cardiologist in the Philippines.

Peter drove us to the house of Art Scialla where we met her beautiful wife. We all proceeded to the Bonfire Restaurant for a dinner with the Topp family. Dajed was so excited to see her 2nd family again after a long and tiring day. It was a nice dinner, we were like one big happy family.
After dinner, Erica, Andy, Dajed and I went to the Manchester Regional High School where the school board had a meeting. Dajed shook hands with all the members of the board and I said my "thank you" and "farewell" speech. The school board was so proud of what Erica and her club had done for Dajed. They also expressed their desire to take Dajed back as an exchange student in high school. They asked me to keep in touch and update them regularly.

Oct. 12 Manchester's and Dajed's story came out on the front page of the NJ newspaper, The Record. We were all happy and proud to see how the article was written.
Nelda Ocampo, a Filipina friend of the Topps came to see us. She brought Dajed and I to have lunch in a Chinese Restaurant and proceeded to her house where we met her husband.
I left Dajed with Erica and the children to have dinner with Andy, Karen and their friends. Dajed had a good time playing with the children but she started to cry and looked for me 10 min. before I came back.
I called Mr. Sandberg, the founder/editor of boes.org, it was 4:00AM in Sweden and he was still working infront of his computer. I felt so good to hear the voice of the man who started it all- to save my daughter's life. It was a long and lively conversation and we talked about a lot of interesting things.

Oct. 13 My aunt, Nenita Briones, picked us up and brought us to a crafts, toys and book stores in NJ. She brought us to her house in Secaucus, NJ and Dajed and her son, Matthew became so close. We were not able to go to NYC but we've seen the NYC skyline at night, the city was fully lighted except for the Manhattan area.

Sunday Oct 14: B. Sandberg, editor & founder of BOES.ORG:
Both yesterday and today Sunday, I received phone calls from New Jersey, U.S. Here in Scandinavia I've never heard a person lucky like the mother who called me. Lovely to hear. They're going back to the Philippines within some hours.
How do you use to feel, when a child aged 2 ½, over the telephone-line wants to declare her and her mother's happiness after peoples action for better life?

My warmest thoughts to each one involved in this Lifeline since we kicked off in May. You understand how it generates Health and Quality of Life also for others. Extra gold for you, sponsoring students, members of Manchester Regional HighSchool Interact Club. You are fantastic. You are generating hope.

Dajed's Mother Jennifer, back again in her diary:
Oct. 14 After almost one month of stay with the Topp family, the most difficult thing to do is to say goodbye. While waiting for my aunt who'll bring us to the airport, I had a short talk with Mr. Sandberg over the phone. He heard Dajed's voice for the first time when she said "I love you, Bo!".
My aunt arrived at 9:30 AM and we could not control ourselves from crying. It was so painful to be separated with the family who loved us dearly as one of their own, provided everything we needed and shared with our joy, fear and anxiety. I was crying in the car when we left Haledon. My aunt accompanied us until we have checked-in our luggages.
We left Newark Int'l Airport at 12:35 PM for Detroit. Security was so tight and the weather was not so good so our next flight to Nagoya,Japan was delayed for 3 hrs. Thank God, there were lots of Filipinos on the plane and it was easier this time because they assisted me. Dajed slept for 6 hrs. on and off, and from time to time, she'd complain of chest pain.

Oct. 15 We arrived in Manila at 12:30 AM, it was a 24-hour travel. Marvin picked us up with our friend, Roland. Dajed was so happy to see her Dad and she immediately sat on his lap. She missed our humble home so much and she was jumping on her bed with gladness. I was physically exhausted but Dajed wouldn't want me to sleep because her body clock is on American time.

Oct. 18 I'm experiencing a physical breakdown due to lack of sleep. Dajed still could not adjust to the Phil. time so we're sleeping during daytime. Our friends and relatives are so excited to see us. Dajed keeps on looking at her pictures and a smile blossoms on her face everytime she sees Andy, Karen and the children's pictures. We really miss them a lot.

Dajed's Mother, Jennifer, continues:
THANK YOU ! :
First, to our Lord and Saviour Jesus Christ, you are worthy of all the glory and honor and praises. Thank you for choosing us to undergo this painful and difficult trial, it has molded our characters and has drawn us closer to You. Thank you for using us to strengthen others through this experience.

Bo Sandberg/ BOES.ORG - Children's Rights Across the World - Truly we are thankful for all your efforts in creating a webpage which started the life saving action for Dajed. Thanks for giving unselfishly and you're a great inspiration to this generation and the generations to come.

Rotary District 7490, Gift of Life Committee - Our heartfelt thanks for giving Dajed a second chance of life. Dajed's scars will always remind her that she's one of the hundreds of children you've helped through the concerted effort of your clubs and host families. God bless all the people behind it.

Andrew and Karen Topp - Our deepest gratitude for allowing us to stay in your lovely home. It's really amazing how you were able to host 9 GOL children despite of your busy schedules. Thanks for providing everything we've needed and for loving Dajed as one of your children. I hope someday we'll meet again. We miss you a lot.

Erica, Joshua, Zachary and Linnea Topp/Laura and Jeffrey Fischer - Thanks for all the joy and fun we've shared together. It's so sad that we had to go but our friendship will remain forever. Such loving, caring and disciplined children like you are rare in this world. May you do better than what your parents have achieved. Hope to see you again someday.

Manchester Regional High School Interact Club members - Thanks for playing a big role in saving the life of Dajed. High School students raising fund for the heart surgery of a child - we've never heard of that kind of story until you came. You've inspired the youth of this age to go beyond the four corners of their classrooms and start to look at things in a different perspective. You have an amazing president, Erica Topp, a true leader who has the vision of love. Keep up the good works.

Paterson Rotary Club - Millions of thanks for matching the fund raised by MRHS Interact Club and for covering the other expenses for Dajed's surgery. Thanks for giving Dajed a bright hope and future.

Montefiore Medical Center/Dr. Henry Issenberg/Dr. Gregory Crooke/Dr. Carl Steeg/Nurses and staff - Thanks for providing the best medical facility for cardiovascular patients like Dajed. It's pretty amazing to see Dajed recovered so fast from this major surgery. God is able to repay you a hundred fold.

To all our relatives, friends, brethren in Christ who supported us in prayer and shared with our fears and anxieties, and in so many ways - thank you so much for your untiring support. Eveything was written in heaven.

Dajed's Mother, Jennifer Montojo, Quezon City, Philippines



---

Send your comments!                   Click for U.S. Photo Menu!
 
 
Wednesday Oct 31, 2001, from Jennifer. Good News about Dajed:
We just came back from the hospital where Dajed had her echocardiogram. Praise God, everything's okey. Dr. Collado did not see any leak on the homograft and the VSD but she has seen a mild narrowing of the pulmonary artery, maybe from the sutures but nothing to worry about. Now she can engage in any kind of activities. Her next echo is after 6 months. She was given antibiotics for her cough.

We brought her to the McDonald's Playplace, and I was so happy to see her play with the other kids going up and sliding down the maze, without experiencing any shortness of breath of fatigue. She's very active now and I bring her out in the morning and late afternoon to play with the other kids in the neighborhood. Her physical improvement is remarkable, she can already run around, jump, hop, scream without getting tired and very talkative too. I hope she will not get sick more often.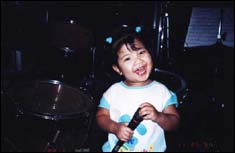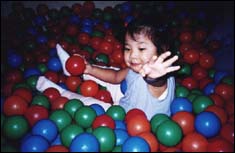 A Lifesaving Action in co-operation between BOES.ORG and Rotary District 7490, Gift of Life, in New Jersey U.S.   Surgery Sponsors: Manchester Regional High School Interact Club, with support from Paterson Noon Rotary Club, NJ