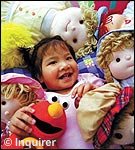 THANKS to the Internet, ailing 2-year-old Darelle Jed Montojo will fly to the US for an operation.
DENNIS SABANGAN


 
Sunday, September 2, 2001
"Ailing kid gets help from strangers"
0:24 AM (Manila Time) | September 02, 2001
By Volt Contreras and Blanche S. Rivera
Inquirer News Service
 
"IN this cold world, one can still depend on the kindness of strangers."
 
"When Dajed was asleep, Jennifer and her sister would take turns surfing the Net in search of treatment for the child's condition, as well as foundations that could extend assistance. They have been hooked up since December last year."
 
"Jennifer sent e-mails to around 10 international foundations championing the rights and welfare of children, but few bothered to respond."
 
"Their hopes flagging, Jennifer's sister came across a story of a Chinese boy who was helped by a medical team in the United States through the efforts of Children's Rights Across the World...."
 
"We were getting frustrated because everyone was ignoring us, Jennifer says. This was the last shot, so we were so thankful that finally, somebody out there was taking us seriously. It was the answer to our prayers."
 
"Dajed and her parents will fly to the United States for her Sept. 27 operation at the Montefiore Medical Center in the Bronx in New York. She will get a valve homograft, the best medical option for her abnormal heart."
 
Article correction: The Inquirer text says, the actual Rotary District, cooperating with BOES.ORG is New York based. Correct is Gift of Life Foundation of Rotary District 7490, New Jersey
 
Christmas Day 2001, December 25
"Heart baby doing well after surgery through Gift of Life"
By Donna S. Cueto
Inquirer News Service
 
"A former executive with the SM retailing and mall development company, she is now a volunteer for BOES.org, and advising other parents on how to get help for their ailing kids, providing a step-by-step guide for those whose children had accepted into the Gift of Life program".
 
"Jennifer is also busy helping the parents of the Filipino kids who are scheduled for surgery 2002".
 
"The surgery was performed for the purpose of putting a valve homograft – available only in the United States – inside Dajed's chest. It was the best option for her to survive, this child who had no main pulmonary valve".
 
"Who would think that this lively and cheerful two-year-old underwent surgery lasting seven-and-a-half hours only three months ago?"