October 11, 2000
A BOES.ORG-web visitor, living in the US, did find our S.O.S.-message subjected "To Save My Daughter's Life", from Lin's mother Wei Chuangxin, Shanghai.
Our visitor took the contacts needed, which resulted in a "Possible Acceptance"-letter for medical care in the US. (A request for updates of Lin's medical report, Echocardiogram. EKG, X-rays and results from recent Hepatitis B test as well as a Tuberculosis test. All in original documents.)
BOES.ORG received and forwarded the request-document from USA to Wei Chuangxin in Shanghai.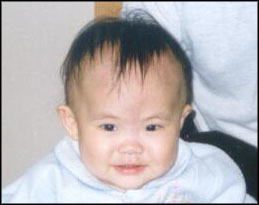 At that time, in September, Wei's daughter Lin needed help desperately. When our forwarded request for medical report dropped into Wei Chuangxin's mailbox in Shanghai, she was in Beijing. She was at the Fu Wai Hospital, together with her daughter. The surgery couldn't wait, and Wei was lucky to find help inside China.

While the BOES.ORG-web-visitors Carol Masters, Gloria Weichand and Karen Steinmetz were preparing for contacts between doctors in China and the doctors in the US, Lin was taken to the Fu Wai Hospital for a lifesaving surgery. Dr. Liu YingLong helped little Lin to survive.

Lin's mother, Wei Chuangxin writes the following to BOES.ORG::

" Dear friends,

It's time to share the good news with all of you. My daughter has been performed surgery successfully.

I started to seek the international help in the beginning of June. I got much information from warmhearted people. Meanwhile, I managed to seek the Doctor who can perform the operation in China. Fortunately, I got the help from Dr. Liu YingLong working in Fu Wai Hospital in Beijing, China. He performed surgery for my Daughter on Sept. 12 successfully. It gave my daughter the second life.

I will never forget I have got so much help from you. It supports me to spend the difficult time with my daughter. It also supports me to overcome the difficulty I meet. I really want to say thanks. Thanks God! Thanks to the world! Thanks to you all especially to BOES.ORG, Gloria's Place of Hope and Ms. Carol Masters. The love crosses the countries. The love is full of the world.

Please share my happiness with me! "

Wei Chuangxin

Read her S.O.S.-message subjected "To Save My Daughter's Life".

BOES.ORG Main INDEX
The 1:st Internet Lifeline started October '97
Multilingual Human Rights / Children's Rights Across the World
Deutsch     Español     Français     Italiano     Other Languages