April 2000

-I could not believe that I would be playing my favorite game ever again on my "wooden leg."

-When I came the first day for the first practice, some of them couldn't skate at all. They were holding the boards, says Elks' coach Nikolay Maslov.
Now his biggest problem is to keep his players from checking too hard.

An interesting event happened in Boston, MA, December '99. It never made front pages of the newspapers or news broadcasts in the US, but it got a great cheer from the audience at Tsongas Arena, Lowell, during the half-time at the University of Massachusetts / Lowell vs. the University of New Hampshire hockey game on Saturday, December 4, 1999.
A 5 minutes long exhibition game took place between American hockey veterans and a group of veterans of another type - a team of disabled Russian war veterans, who lost lower limbs to a land mine or a sniper shot during the most recent military conflicts.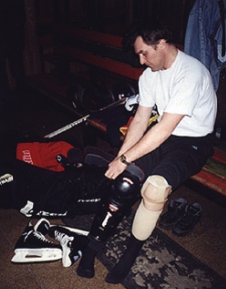 Alexey Balakhontsev, who lost his limb in Afghanistan in 1985, told us, that in June of 1998 he was invited to the US to take part in the First International Conference held at the International Institute of the Prosthetic Rehabilitation of Land Mine Survivors (IPRLS) at New England Sinai Hospital.
IPRLS, which is based at Tufts University's School of Medicine, New England Sinai and the Ohio Willow Wood Company, a prosthetics manufacturer, were co-sponsoring the conference. "I was invited by Dr. Mark Pitkin to try a new model - Free Flow Foot and Ankle. I have heard about Dr. Pitkin in Russia at the Institute of Prosthetics in St. Petersburg, where he worked before he left for the US in 1989. I remember when after fitting I asked Dr. Pitkin to let me drive a car, and it was so easy to do. At that time I couldn't imagine that it was just the beginning in the development of the device. But even in my most weird dreams I could not imagine myself playing vertical hockey in two years from that date!"
"We left for Boston just after a couple of training sessions at home", - says Nikolay Kniazev, Afghan War Vet, Vice president of the Foundation "Veterans of Recent Wars - Together", who lost his limb at the age of 20 in 1985 in Afghanistan. - I have to thank Mr. Anatoly Keyer, Director of the Institute of Prosthetics in St.Petersburg, and my doctors - Mr. Konstantin Scherbina and Mr. Mikhail Moskovtsev, who did a great job fitting the prosthetics sent to us from the US. I could not believe that I would be playing my favorite game ever again on my "wooden leg."
Gentlemen from Associated Press called the event in Boston "Another Russian miracle on ice", but we think this name doesn't reflect the value of the human factor - once again disabled people were given a chance to feel healthy and equal to anyone of us. "The Great Russian five on ice" is just the beginning of a big project, the main goal of which is to combine efforts from the former adversaries of the Cold War. The Free Flow Foot (Rolling Joint Foot / Ankle) was initially conceptualized by Dr. Mark Pitkin, Tufts University bioengineer. The foot was introduced at the October 1999 American Orthodontics and Prosthetics National Association by Ohio Willow Wood Company- a prosthetic manufacturer, that holds the patent on it - a well established 90 years old firm and a leader in the prosthetics industry. The device is a result of common work of former engineers of nuclear weapons from the US (Sandia Labs) and a Russian Lab "Cheliabinsk-70", also a prominent nuclear weapons laboratory, which is using its advanced skills in materials, stress analysis, mechanical design and computer stimulation to improve the design.
The program called the "U.S. - Russian Prosthetic Rehabilitation Bridge" is being conducted through a partnership between St. Petersburg Institute of Prosthetics, New England Sinai, Tufts University School of Medicine, New England Medical Center, Sandia National Laboratories of the U.S. Department of Energy, United Prosthetics Inc., Ohio Willow Wood Company, Liberty Technology, Tekscan and the Michael and Helen Schaffer Foundation. Prosthetic components to the Russian amputee team were donated by Ohio manufacturer together with their unique Alpha Liners and Pylon systems. Attractive bright yellow - red uniforms which you can see on the pictures were also a gift to "St. Petersburg Elks" from Franklin Sports.
The issue we would like to address right now is that there are only 5 lucky guys in St. Petersburg hoping to play an exhibition game during the World Ice Hockey Championship in St. Petersburg in May of 2000. But we have to remember, that there are an estimated 110 million active mines scattered through 70 different countries today, one for every 50 people alive today. Another 110 million mines are stockpiled. Over 2000 people are injured every month by land mines, of which 800 will die, the rest maimed.
Currently, one deminer is killed and two are injured for every 5000 mines cleared. About 100,000 mines are removed every year, compared with 2 million mines being planted. Assuming no mines were laid and demining rates remained as is, it would take 1,100 years to remove all the mines in the world! As an example, land mines accounted for 78% of civilian injuries and 45.6 % of military personnel injuries in recent war zones, such as Afghanistan and Chechnya, according to data from the Medical Military Academy of Russia. It costs just $3 to make a mine, but up to $60 times to clear them. The UN estimates that the costs of removing all the mines are going to be $33 billion to over $50 billion. But until the Land Mines agreement in Ottawa in November 1997, demining funding was less than $150 million.
Many patients reach a hospital late having lost a great deal of blood and usually with an established infection in the wound. Additionally mine injuries are usually very dirty and contaminated much more so than wounds due to bullets or ordinary shrapnel. A traumatic amputation due to a mine is not like a traumatic amputation due to a heavy machine gun. The tissues have a great deal of impregnated organic matter, dirt and debris; they are the sorts of wounds most surgeons simply have not seen before.
Anti-personnel land mines are the leading cause of war related injury and disability on earth, claiming an estimated 26,000 victims each year.
80 Percent of the world's disabled population lives in the Third World and only 2 percent of that number ever receive rehabilitation. Artificial limbs are expensive and must be replaced every three to five years for adults and every six to twelve months for a growing child. There also an estimated 260,000 lower limb amputees in the United States with an occurrence of 40,000 per year, at an estimated cost to society of $1 billion a year. In Russia about 45% of adult amputees and 70% of children require sophisticated reconstructive surgery prior to the individualized prosthetics fitting.
Through the IPRLS and its partner, the St. Petersburg Institute of Prosthetics, land mine victims are treated using the latest technology. By bringing the U.S. manufactured prosthetic technology to the Russian Institute where Russian physicians supply the surgical and rehabilitation component, amputee victims receive the appropriate treatment needed for maximum functioning, delivered the most cost-effective manner. The cost of entire procedure when performed in Russia is no more then $3,500 per person. The same treatment in the United States has been estimated at $25,000.
Dr. Pitkin said, that after only 2 years, the program is beginning to yield results. "Last year there was just hope, now we have four children and three adults fully and successfully rehabilitated". According to Dr. Pitkin, UNICEF and an application for funding have accepted the IPRLS Proposal for a St. Petersburg Children's Center submitted to the World Bank. "If funded the center could provide treatment and rehabilitation for up to 500 children with amputations and who require surgery as a part of their rehabilitation." he said. Our unique and brave hockey team hopes to continue training and playing exhibition games.
There is no other amputee team in the world right now to play "vertical hockey". American and Canadian amputees play sled hockey where player sits on a platform above double runners while propelling himself with two small hockey sticks that double as oars. The sled hockey is already in Paralympics. Is it possible to find enough brave and strong people in the world and, what is the most important, enough sponsors to promote "vertical" amputee hockey?
Elks' coach Nikolay Maslov said: "When I came the first day for the first practice, some of them couldn't skate at all. They were holding the boards." Now his biggest problem is to keep his players from checking too hard.
We would like to see the entire project to go without hard checking. We hope that international conference "Hockey on Prostheses" will be held successfully in St. Petersburg in May during the World Championship and we could see our Elks in Paralimpics soon. On behalf of the Foundation "Veterans of Recent Wars - Together" we would like to thank all the sponsors for their support of St. Petersburg unusual hockey team.
This Land mine rehabilitation section, with special thanks to:
Public Foundation Veterans of Recent Wars - Together
St. Petersburg, Russia
and theirs President, V. Grigoriev


BOES.ORG Main INDEX     LandMine Index     LandMine FrameSet
Tun Channareth     Rae McGrath     Francis Sejersted     Jody Williams
 
Multilingual Human Rights / Children's Rights Across the World
Deutsch     Español     Français     Italiano     Other Languages
Arabic Chinese Danish Dutch English Finnish French German Italian Japanese
Norwegian Portuguese Braz-Port Russian Spanish Swedish Turkish