-Without this surgery she would not survive for even one more month, says Dr Crooke of Montefiore Medical Center, N.Y.

Latest Update, October 28, 2002

boes.org/internetlifeline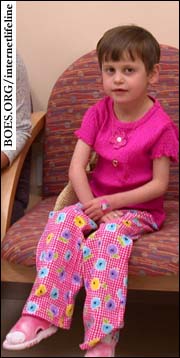 June 16 - Arife was going to go back to the host families home last night, but at the last minute, her potassium levels came back too low. She will most likely leave Montefiore Medical Center today. She is very anxious to get out of the hospital! Who can blame her? She looks good, is eating well, and I am sure will soon be looking and behaving like a new 7 year old! She is very smart and speaks a lot of English already!



June 17 - After eating a couple of bananas, and some medications, Arife's potassium level went back to normal and she was finally discharged today at 1 PM. She is now home with one of her host families, now with a new apetite.
There are preliminary plans for an escort and flight back to Kosovo, July 2.



June 21 (Eastern Standard Time). Arife has been "home" for 5 days now. She was the hit of the Gift of Life Committee meeting on Wednesday, kept on smiling and giggling. She is eating a lot more and will be running around soon also.



June 25 - Arife continues doing well. She is now climbing steps, eating well and gaining weight. Even her personality is changing and has a certain charisma.
Her last check up at Montefiore Medical Center is Friday June 28.



Ivan Picinic and Mario Picinich from Arife's hosting families are planning to escort her back to her family in Kosovo on July 2. They says: "Arife has taught us all a great lesson, don't ever give up."



June 28 - Arife is going home to meet and live with her family again, after one month in the U.S. to get a Gift of Life. She and her escort, host "father" Ivan, and host "uncle" Mario, are escorting her home to Kosovo FRY. Departing from Kennedy Airport Monday July 1st at 6.45 PM (Eastern Standard Time), arriving her home village Gllavicë on Tuesday July 2.




July 03 (GMT) - "It was clear sailing all the way to Prishtina in Kosovo. On board the flight we met a Kosovo family with 2 children, so the trip was easier since Arife then became busy with her new friends.
Once in while she would get anxious and just like a typical kid say 'when are we getting there'. "


"Arife's father and her grandfather met us at the airport and the meeting was a rewarding sight to witness."


"The father and grandfather kept thanking us over and over again. They not only thanked us, but was grateful to all of the BOES.ORG and Gift of Life members, KFOR (the peace keeping forces in Kosovo), the medical team, the hospital personnel, the people in Kosovo and the Albanian community."
"We were able to explain to them all the people that Arife brought together and we thanked the father for 'giving us' Arife for 6 weeks. I explained to him that Arife has taught all of us the meaning of the word courage."  /Ivan & Mario



July 05 (GMT) - LTC Dieter Lussem writes and sends us new photos: "Hello and greetings from Kosovo. I was at the airport to welcome Arife Zejna, together with her famlily. I went to visit them yesterday and she is doing fine. The family is really happy to have her back and her father thanked all the people who supported the family and to make the operation possible."
LTC Dieter Lussem, German Air Force. Member of CIMIC Batallion in Prizren, Kosovo.



October 28 - LTC Dieter Lussem (representing the peace-keeping forces in Kosovo, Former Yugoslavia) writes:
"I visited Arife yesterday and she is doing really fine. She looks and acts like a normal child again. She is running around and playing with the other kids in the village. The father thanked all the people who helped Arife once more and the parents are really happy."


A Lifesaving Action in international cooperation between BOES.ORG Children's Rights Across the World (based in Scandinavia), and Rotary International District 7490, Gift of Life, U.S.
This action to save Arife's life was also, since late February, given forceful support from German Navy, Humanitarian Aid Platoons, CIMIC Battalion, and US Army G-5 Task Force Falcon.