The Internet Lifeline. Non Profit Cooperation for Lifesaving. Arife's Lifeline since March with strong support from, German Navy and US Army

May 19 - June 08, 2002

boes.org/internetlifeline


May 19 LtCdr Andreas Papke showed Arife's father the first pictures of her daughter in NY. He was very happy being aware of the chance for his daughter's life. "Falemiderit shume" or "thank you very much" were her father's words many, many times for all the people involved in saving Arife's life.
 
On May 20, Monday, Dr. Issenberg and Dr Crooke of Montefiore will start and immediate evaluation on Arife's condition. Her condition is easily fixable but something that should no longer be delayed. There is a positive reinforcement surrounding her by staff personnel, friends and host families. She has won over the hearts of all that has seen her and she is a true example of courage. Her escort Dr. Jeton Vorfi will be returning to Kosovo on May 21 at 6:15 from JFK Airport, he will be in touch with Lt. Putger upon arrival.
 
May 21, by Andrew Topp:
Arife is doing somewhat better today. The amazing thing is that I actually talked with her briefly this evening, on the telephone! In English!
Mario Picinich stayed at the hospital with her most of the day and reported to me that Arife was feeling so much better, that by mid-afternoon, she was not only talking and asking a lot of questions, but they began to play some games, puzzles, and coloring, and she was often laughing and giggling.
She is quickly becoming the center of attention in the Pediatric Intensive Care Unit. When they had the phone in the room turned on this afternoon, Arife wanted to hear and talk to anyone that called. When I called to see how she was doing, Arife repeated after Mario, "Hallo, How are you?" When I asked how she was, she responded, "Fine!".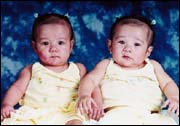 Next Lifesaving Flight, June 3

Her remarkable strengthening makes the doctors more confident that she will be ready for surgery next week. Right now she is still scheduled for a Cardiac Catherization on 5/29, and unless the catherization shows anything more unexpected, Arife will have surgery on 5/30. Her surgery will still be more complicated and difficult than first thought, but things are looking better at the moment. Praise God!
 
The Host family, Ivan and Francesca Picinic, and Francesca's cousin Mario Picinic with his wife Rose, have been taking turns staying with Arife. Someone is with her at all times and she seems to be adapting to them all well.




May 26. Andrew has been checking on Arife daily, talking with either Mario and his wife Rose, or Francesca, her host family. Arife is doing well, she is out of the Pediatric Intensive Care and on the regular floor. She is still receiving nourishment via a feeding tube, sometimes eating some on her own. She has gained about 1.5 pounds so far!
She is scheduled for a cardiac catheterization on May 29 and surgery on May 30.
 
Midight, May 29-30 (Eastern Standard Time), by Andrew Topp:
Arife had her cardiac catherization today. She is recovering from it a bit slower than normal, she was also running a low fever for awhile. The catherization showed that her heart problems are quite complicated as expected, but also that her lungs are a bit damaged from the length of time she has been living with this imperfect heart. She should have had surgery several years ago.



At present her surgery has been postponed until Friday, providing she recovers more tomorrow. Otherwise, it may not be until next week. I wish I had better news. Erica and I spent several hours at the hospital tonight with Arife. Mario Picinich was spending the night tonight. Everyone here "has fallen in love" with Arife and we are all praying she will be on the road to recovery very soon.
 
May 30, 9.00PM (Eastern Standard Time).
Arife's surgery has been postponed until next Thursday, 6/6/02. The doctors wanted to give her a little more time to recover from her Cath. and their schedule is also quite booked. She will most likely remain in the hospital until then. She is other wise in good spirits, although at times a bit bored sitting in the hospital room all the time.
 


June 01, letter from Andreas Papke, LtCdr of the German Navy, team leader of the humanitarian aid platoon of the CIMIC battalion at Prizren in Kosovo:
"We are right back from Arifes relatives. They are all with her and the whole village was waiting for news. Our military priest arranged a service for her the Sunday after she had left Kosovo and we collected some money for her family afterwards. So we are all with her and pray for her and try to keep her and her family informed."
"Thanks for all you did and you are doing for Arife.
If it is possible please show her the digital fotos   1       2       3  
Yours   /Andreas"



When Arife and her escorting doctor Vorfi, sat on the flight from Kosovo to USA, LtCdr Papke appreciated the outcome of this aid action, and said: "The word 'impossible' just doesn't exist if all the people who are in one boat row in the same direction."
 
June 06, 08:44:48 +0000
Letter from doctor Jeton Vorfi, Arife's escort from Kosovo to USA:
"After I came from USA, I visited Arife's family. They are so concerned for her and her condition. They miss her a lot especially her father because she is the eldest child in the family. She seems to be very connected with him and calling him all the time."



"With money that Mr. Ivan from Arife's hosting family has given me, I brought them so many things, different kinds of food, and I left the photos that we had together with Arife in USA. They were so grateful to all of you for what you are doing for their daughter."



"I'm in touch with her grandfather. I told them already about the preparations for her surgery. They will know the result as soon as I hear any news about it."
 
June 06, Arife's surgery is again postponed, until next week. Dr. Crooke, the surgeon, feels confident they will be able to make a considerable difference in her quality of life and in her life expectancy.



Without the surgery, Dr. Crooke does not believe she would survive for even one more month.


The biggest obstacle in Arife's heart repair may be her Midral valve. Dr. Crooke thinks they may have to replace it with a metal valve, which should work quite well, but will require "anti-rejection" medication which will also require some monitoring on a regular basis when she goes home.



Of course, there is always a risk that she will not survive surgery.
We all hope and pray that that will not happen, but we should be prepared for that possibility.
Right now, Arife is doing much better than she had been. She has been eating some on her own and has gained a little more weight.
 
June 06, 17:16:12 (Eastern Standard Time). Another delay today. Arife was having some dental pain, it was discovered that she has some tooth infections and surgery cannot take place until the bad teeth are removed (they are baby teeth) and the infection is cleared. The tooth procedure will take place on Friday, 6-7-02 and her heart surgery will be one day next week.



There is good reason for this extra delay, it should give her a little more time to get stronger and put on a little more weight and nourishment before her heart surgery.
 
June 08 - Photo below.




 



One more Lifesaving Action in international cooperation, by BOES.ORG Children's Rights Across the World, and Rotary International District 7490, Gift of Life, U.S.

In Arife's case, with forceful assistance from German Navy, Humanitarian Aid Platoons, CIMIC Battalion, and US Army G-5 Task Force Falcon