Non Profit Cooperation for Lifesaving.  U.S. Flight Now

Arife 7. -High risk of heart failure, stroke and/or sudden death
and therefore requires surgical correction as soon as possible

March 3 - May 18, 2002

boes.org/internetlifeline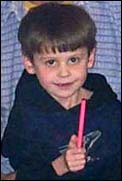 Date: Sun, 3 Mar 2002 12:41:06 EST
From: Andrew Topp, Rotary, GOL
Subject: Re: Arife Zejna
 
"Everything is set for Arife's surgery and arrival. He is set to be admitted into the Montefiore Medical Center on May 26, 2002 with his surgery scheduled on May 28. He needs to arrive in the States, New York, New Jersey Area, approximatly one week prior.
Everything is provided for when he is here, all meals, accomadations with a host family, and anything else he may need. Attatched are his visa request letters from the foundation and the hospital. Please keep in touch and updated on his visa process. Let us know if there is anything else we can do for you to keep this mission moving along."
Andrew Topp, Chairman, Gift of Life Foundation
 
Date: Mon, 04 Mar 2002 11:08:00 +0100
From: LtCdr Andreas Papke, German Navy
Subject: Arife Zejna
 
"We will bring Arife to our Field Hospital (FLAZ )for new examinations tomorrow. Next thing to do will be getting an UNMIK passport for the girl an find a person who can stay with her while being in New York. Her parents are not capable to do that.
I hope that Maj Busher can solve that problem when I meet him on saturday.
Did you get an answer on your request for a visa dated November 26? That woud be intersting while waiting for the passport. It normaly lasts up to 6 weeks until the dokument arrives."
Andreas Papke, LtCdr, German Navy
 
March 10 - LtCdr Andreas Papke, German Navy writes:
"Everything runs well. Arife had been examinated in the Field Hospitalon Tuesday 5th. The results are under way to Montefiore Medical Center via air mail. The US Consulate's staff at Prishtina was very helpful concerning the visa process, so that this will be finished on Monday 18th."
 
"Major Busher and I have established personal liaison yesterday. He is going to arrange for the flight and someone to accompany Arife. The appropriate offical requests have been submitted. We will meet again next Friday. Let's hope for the best."
 


April 20 - LtCdr Andreas Papke, German Navy writes:
I had been able to work out the visa problem with the help of the US consulate in Pristina (Kosovo FRY). I'm still waiting for the permisson for Arife, beeing transported with the US Air Force.
 
April 22 - Andy writes for our partnership Internet Lifeline:
We are still holding Arife's hospital admission date of May 28, 2002. This means that she will need to arrive in New York / New Jersey, area around May 24 or so.
The nearest Air Force base is the McGuire Air Force Base in New Jersey and I assume would be the most likely for her to come into.
 
May 12, 2002 - LtCdr Andreas Papke, German Navy writes:
"Now everything seems to be arranged. We have booked two flights to New York for Saturday, May 18th.
As fare as we know today the flight arrival will be 20:40 pm local. We will give you confirmations about flight No, arrival time and airport as soon as possible. Possibly Arife's return has to be rearranged because the ticket is now valid 30 days.
So fare thank you! Yours,
Andreas"


May 18, 2002. Arife in the Air.  US-Arrival 8.40 pm.
Her escort is Dr Jeton Vorfi from Kosovo.
 
A Lifesaving Action in international cooperation between BOES.ORG Children's Rights Across the World, and Rotary International District 7490, Gift of Life, U.S.   This action to save Arife's life is also, since late February, given forceful support from German Navy, Humanitarian Aid Platoons, CIMIC Battalion, and US Army G-5 Task Force Falcon.