Absolute Assistance NOW for Arife's/our Lifesaving Action

German Navy, Humanitarian Aid Platoons, CIMIC Battalion
and US Army G-5 Task Force Falcon, assist.

Feb 27 - March 3, 2002

BOES.ORG/internetlifeline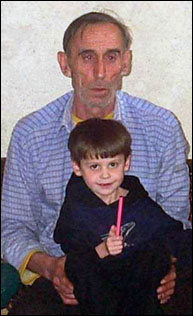 1st Hopeful Response
 
February 27 2002 08:02:23 +0100 (MET)
From: LtCdr Andreas Papke, German Navy
To: BOES.ORG
Ref: Your e-mail dated December 12, 2001
 
"I am Andreas Papke, LtCdr of the German Navy, and team leader of one of our humanitarian aid platoons of the CIMIC battalion at Prizren / Kosovo. The CIMIC Btl is part of the KFOR Multinational Brigade South"
 
"The new Liason Officer of the German Field Hospital (FLAZ) handed over to me the a. m. e-mail. With surprise I have noticed, that the message contains an offer for medical aid for a young girl. Of course I have noticed as well the priority, that message needed to be replied to."
"Unfortunately due to the turn-over of personell and responsibilities that e-mail happened to disappear and therefore remained unreplied. As much as I regrett this failure I do hope that your generous offer is still valid. I kindly request you to please send an immediate e-mail to confirm that I can take appropriate action to find the girl and organize for all details necessary."
 
"Hopefully not being too late!
 
Yours
A.Papke"
 
Fri, 01 Mar 2002 01:06:57 +0100. We now have our hope to LtCdr Andreas Papke, German Navy, and to his Civilian Courage.
Reply, including important questions and demands for an instant action, is now sent to:
LtCdr Andreas Papke, German Navy
Team leader of the Humanitarian Aid Platoons
CIMIC Battalion, Prizren / Kosovo
KFOR Multinational Brigade South
 
1st Hopeful Action
 
Date: Sat, 02 Mar 2002 12:04:24 +0100
From: LtCdr Andreas Papke, German Navy
Subject: Arife Zejna
 
"I am in liaison with Maj US Army Otto A Busher III G-5 Task Force Falcon, the US equivalent to GE CIMIC Btl and since shortly our point of contact at Camp Bondsteel, Kosovo.
As well I included the German field hospital FLAZ into my network. Whatever is available of requested medical documentation is going to be sent to you by fastest means possible."
 
"These links will certainly help solving our problems and may have some answers to your questions:
You asked, 'Who will pay the flight?' We will try to probably manage a flight with US military facilities. That includes the ticket booking problem."
 
"I will assist the family with other problems like getting a passport for Arife, now 7 years old, and hopefully Maj Busher can solve the visa problem in short action."
 
"We have visited the family. They are in a bad condition, - no job, no money, no food. But after the visit a little bit more hope concerning the future has raised."
 
"My mail includes a foto of the family, may be this foto helps strengthening your efforts.
Please remail all information to Maj Busher an others being involved in order to get them updated."
 
Thanks so far,  / Andreas
 


A Lifesaving Action in international cooperation between BOES.ORG Children's Rights Across the World, and Rotary International District 7490, Gift of Life, U.S.


Now with assistance from German Navy, Humanitarian Aid Platoons, CIMIC Battalion, and US Army G-5 Task Force Falcon