Lei Anne Pearl & Lyrize Julienne - Twins
Olongapo City, Philippines         Lifesaving Action

June 04 - 16, 2002

BOES.ORG/internetlifeline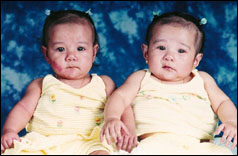 June 04, 21:24:16 (Eastern Standard Time). Lei Anne and Lyrize, with their mother Liza and Aunt Lani, were delived by Northwest airlines, from the Philippines at 3:15PM, Tuesday, 5/4/02 and were welcomed and picked up by the hosting family.



All considered, the 11 month old twins don't look to bad in spite of the 20 + trip. Yet we know their heart surgery is needed perhaps even more than most. Dr. Issenberg almost denied their case because of its complexity and likely hood of two surgeries each. But we are committed to doing the best we can with each case that comes to us, and so here they are.



With thanks to all those who have made it possible for them to get this far, specially to Mat and Jorge Caparas and the Shigeo Takayama Foundation, that are co-sponsoring one of the twins along with Paterson Rotary and Manchester Interact!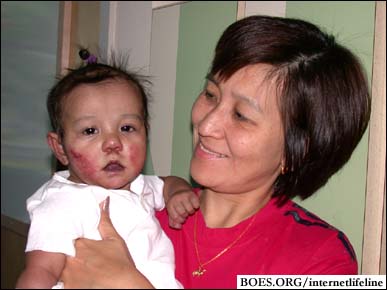 June 09 - Preparations for 1st Surgery.
"Our" twins, Lyrize and Leianne had their heart catherizations Friday June 07. They did fine but Leianne has a bit of a fever last night and today. We are hoping that it breaks soon because Dr. Crooke would like to do her surgery first, on Monday (7AM, June 10). Both girls' oxygen levels are very low, but Leianne's heart situation is a little more difficult than Lyrize's and they'd like to give her a little more time to recover.



Dr. Crooke is confident that they should do well with what he can do in the first surgery, but It still appears that each of them will need a follow up surgery in about one year.



Rotary/Gift of Life Chairman A. Topp is still looking for some matching funding for their next surgery ($3000.00 each).



June 10 - Still fever, surgery postponed.
Lei Anne was still running a fever so it was decided to move up her surgery.
Lyrize is scheduled to have her surgery tomorrow, June 11, and Lei Anne later this week.



June 11 - Surgery had to be postponed one more time because they are both having a bit of diareheaa. Lei Anne and Lyrize are still on hold. The doctors are having a meeting June 12 to try and determine their schedule.



The delays cannot be helped. What is best for each child comes first, once one date gets changed, it often changes the schedule for others also, for the whole week.



June 14 - Lyrize Julienne Escoton: Surgery had to be postponed from day to day again, until today Friday, 12 noon.



Lei Anne Pearl Escoton: Now scheduled for next Tuesday.



June 14, 4.00 PM (Eastern Standard Time). Lyrize is now in surgery. She was brought to be prepped at about 12 pm, and we believe she entered surgery at 1:30 PM. As of yet, there has been no word out of the operating room, so we are not sure how it is progressing. Surgery length is expected to be somewhere between 4-6 hours.



Lei Anne is now quitely resting, waiting for her sister to return, and waiting for her turn for surgery.



June 15 (GMT) - Finally, Lyrize is out of surgery and seems to have done well. Dr. Crooke has told Lyrizes family that he is pleased with what they were able to accomplish. They are currently trying to stabilize her blood pressure and oxygen levels. Yhe twins mother Liza, is staying with Lyrize in the PCCU and Aunt Lani is on the 8th floor with Leianne.



June 16 - Andrew says: Lyrize is doing well. Dr. Crooke installed a shunt in her heart which has greatly increased her oxygen levels, she has lost her blue color and now looks much better. She will most likelybe needing further surgery in about one year, but we have not talked about those details yet.



Lyrize Julienne Escoton, 11 months old, after her lifesaving surgery.



A Lifesaving Action in International Cooperation between BOES.ORG Children's Rights Across the World, and Rotary International District 7490, Gift of Life, U.S.