Lei Anne Pearl & Lyrize Julienne - Twins
Olongapo City, Philippines         Lifesaving Action

March 14 - 19, 2002

BOES.ORG/internetlifeline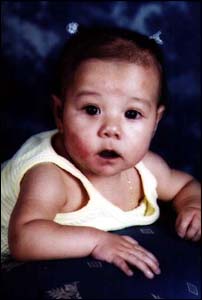 Date: Thu, 14 Mar 2002 21:31:02 -0800 (PST)
From: leilani mangalonzo
Subject: Re: Lei Anne & Lyrize
 
As of now, the kids are having fever, maybe because of the sudden change in climate. They also have cough. We are hoping for miracles to happen. As I've mentioned before, Lei-Anne's case, according to Dr. Collado is very complex. Tha reason why she referred her case to the founation. We are hoping and praying that something can be done for her. At this point of time, I can readily say she'll be a good person. When Lyrize is sick, she doesn't ask for attention. She just stares at her mother and her twin sister, observing, as if wanting to help. She'll grow up to be a responsible person sosmeday, given such miracle.
 
March 17, 2002 - Letter from Grace Obedicen, Philippines:
 
"Since we cannot repay you, Eden Sampang and I commit ourselves to pay your kindness forward to parents with sick children who are now in despair."
 
"At the moment, we are assisting the Escoton twin avail of help. I was informed by Eden that Lanie, the twins' aunt, did already send you the charts of this twin."
 
"Last Friday night, Lei Anne, had convulsion, twice, and she was rushed to a hospital here in Olongapo. According to doctor's diagnosis, Lei Anne has bronchopneumonia."
 
"This morning, Sunday, March 17, I spoke with Lanie, she told me that Lei Anne is still in the hospital and a series of laboratory tests was done to her last night and it was found out that her bacteria level is 11,000. She will be checked again today, if her bacteria level lowers to 10,000, she will be allowed to go home which is better for her than staying in the hospital because she is exposed to many bacteria in the hospital, as per advised by her doctor."
 


March 20, from Andrew Topp, Chairman of our cooperating partner Rotary 7490 Gift of Life.
 
"Lei Anne's and Lyrize's, the twins aged 7 mos, cases are especially difficult. They will both need two surgeries (spaced about one year apart) and they may need some extra 'parts'. One Philippine Rotary District has already agreed to donate $3,000.00 towards the twins case, but more will be needed. We are hoping to raise enough from outside sources to share the costs evenly for these two children.".


"Lanie and the twins' parents are getting afraid and in despair every passing day for this twin. The health of the twin is deteriorating as days passed by and they dread the day to see their twin gone."
 
March 18 - From Grace Obedicen:
"Lei Anne was disposed from the hospital yesterday (Monday 18), though her condition was not yet stable, for two reasons, one, she was not well taken cared of in the hospital and second, the bills were beginning to mount."
 
"But this morning, they rushed Lei Anne again to the hospital because she had a high fever and was so weak. "
 
"This afternoon, Lanie's friend called me up to tell me that Lei Anne is now in the Pulmonary Intensive Care Unit under observation. Lanie has been crying since last night, she is afraid of what could possibly happen to her niece, while the twin's parents are now really in despair because of their child's condition. The only thing that gives them strength to continue fighting is the thought that God will send help for their daughters.
God Speed."     / Grace
 


A Lifesaving Action in international cooperation between BOES.ORG Children's Rights Across the World, and Rotary International District 7490, Gift of Life, U.S.


 
Date: Tue, 19 Mar 2002 01:45:58 -0800 (PST)
From: Eden Sampang
Subject: ESCOTON TWIN (LEIANNE)
 
"Dear Andy, Erica and Bo,
I went to see Leianne last night at the Polmunary Intensive Care Unit where I have met and spoke with her aunt Lani and her mother. Leianne's pediatrician informed them that she's been suffering from broncho penumonia and has difficulty in breathing accompanied with high fever (on and off)."
 

 
"I have seen the baby in oxygen and respirator. It was a sad and heartbreaking moment seeing the baby and her mother/aunt in such a difficult situation which really reminds me of my own struggles with Jerden before. They are worried of what may ever happen to Leianne since its the second time of the week that she's been admitted/confined at the hospital for brnchopneumonia."
 
"In this regard, I would like to follow up on the status of their request for medical help. I hope would be able to find the twin's case feasible accomodate them on your next slot for surgery.
Sincerely,"    / Eden