Lei Anne Pearl & Lyrize Julienne - Twins
Olongapo City, Philippines         Lifesaving Action

Incoming Letter. February 2002

BOES.ORG/internetlifeline
 
Dear Bo Eric,
 
I am Leilani A. Mangalonzo, Olongapo City. I have a twin niece, Lyrize Julienne A. Escoton and Lei Anne Pearl A. Escoton, now seven months old, both girls, born July 14, 2001 to my sister, Liza Alam and Elde Escoton in Saudi Arabia.
 
The twin was diagnosed to have Congenital Heart Disease after birth and it was attributed to the chemicals my brother used in the farm where he worked as machine operator. (My sister was diagnosed to have cysts on her breasts and Dr. Forest advised her to undergo an operation or get pregnant within six months. My brother in law was not allowed to go home because it was then planting season and he was in-charged of all machines used in the farm. In the employerís consideration of the situation, he sponsored my sisterís stay in Tabouk, Saudi Arabia).
 
Upon arrival in the Philippines last January 1, 2002, we found ways to have the children diagnosed in Philippine Heart Center. With a referral from my fatherís former employer, a certain Dr. Ed Villacorta, the twin had their 2D Echo (the results I sent to Ms. Jennifer Domingo) We were then referred to the Philippine Heart Center by Dr. Leus and after series of visits, the twinís case were presented last February 1 and the case presentation was led by Dr. Juliet Banderas. We also went to Dr. Collado, a volunteer for your organization, and seek for her third opinion and the recommendation for the twin to be accommodated in your program.
 
Lyrize had been hospitalized in Saudi last December due to difficulty in bowel movement, and it was just then the doctors found she has a CHD. She was 2D echoed. She was confined for more than a week, treating also her bronchitis.
 
While in Lei Anneís case, at birth, the doctors found she is a Dextrocardiac. They found her heartbeat very fast so was examined. But fortunately for Lei Anne, she did not suffer for any sickness/ailments not until they came to the Philippines. Here, she always has cough.
 
As of today, the girls had already undergone (3) 2D Echos; ECG, and X-ray.
 
I browsed the internet and read about Jerdenís diary and from what Iíve read, I felt there is still something for the twins. Weíre losing hope because of their complicated (especially Lei Anneís) case but after browsing, I felt the burden became lighter. As Eden said, thereís still hope, we just have to do the right steps, the right moves and find the right persons who would help.
 
As of today, the kids are getting bluer or blacker? They always have cough. Lei Anne had been X-rayed and the result is good. Both of them is on Augmentin; Lyrize takes Ambroxol, and Cechlor. Lyrize is irritable. She canít sleep well even at night. My sister can not sleep also because Lyrize doesnít want to be put on bed. They just stand and dance the whole night and day long.
 
Bo Eric, the reason why Dr. Leus referred us to Heart Center is our incapability to pay for private services. She referred us to Philippine Heart Center Social Services Department so we can have the financial assistance from different charitable institutions whom we can solicit for donations, but weíre informed they will be charging 380 thousand pesos for Lyrize. Honestly, we donít have such amount, my brother in-law is just an ordinary OFW earning money enough for food and other needs of his family.
 
After various explanations on the twinís case, we are now more frightened of their plight.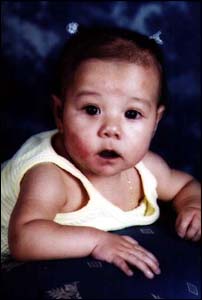 We were informed Lyrize should undergo an operation the soonest time possible and for Lei Anne, it will depend on what the Foundation would say / find.
 
Please HELP US. Next to GOD, YOU are our only source of hope. The kids are very lovable, joyous, inspite of their condition. I canít help crying every time I see them giggling, fighting for life. At the back of my mind, I always think of how long or up to when can we have them. Iím doing this because I believe these kids have their own right to grow up, to live in this world and be of service to God and to the people around them. I also believe I am not contradicting Godís plan for them because when Jerdenís case was brought to my attention, it is His way of saying, ďHey, Lani, Move! Help the kids live their lives. Go and talk to people whom Iím sending for help.Ē And these people are you and the whole of the other institutions supporting kids with heart ailments.
 
Thank you for the attention youíre giving to each family who suffers from the same problem we have. May Godís blessings be with you and your sponsors always.     / Lani