Name:
Age:

Dominique Constantine A. Abril
12



E-mail from: Donn Ed Martin A. Abril, Philippines
 
Subject: Tulungan po ninyo kami!!!!!!!!!!!!!!!!!!!!!!!!!!!!!!!!!!!!!!!!!!!!!!!!!!!!!!!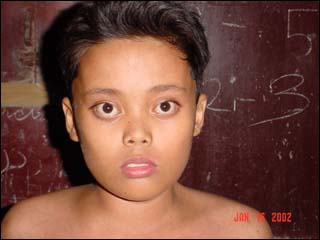 Hi!!!
Hello!!! Im very glad that you are here helping one in hands in saving childrens life and helping to build the youth's credibility and action for proper development to attain peace and order in our world...
Im Donn Ed Martin A. Abril a 13 yr. old student from, Dulag, Leyte, republic of the philippines..>>>>>>>>
Wel im sending an email to this gift of life foundation b'coz i would like to ask your warmest support in our family,,,>>>>>>>> I do beleive that you wil be the one who can help us truly....>>>
Mam , Sir im asking for your support to my brother... my brother named Dominique Constantine A. Abril, a ! 12 yr. old student of Dulag Central School has a very serious health problems... My parents are in a worry on what will be the best thing that we will do...>>>
My brother has kidney stones that needs to be lasered as soon as possible for his doctor told us that his right kidney is not functioning welll... And if this continues to happen my brother would suffer different complications... and so we went to cebu city philippines but he was not yet treated b'coz luck of money...
And as time is passing bye, this was not only his problem,,, during her examinations at cebu city ( Chongwa Hospital), it was found out that he has a serious carotid brewey and a fistula which barred the passage of blood at his rght side of his neck and later it was then found out that he has a problem on his heart and so he must undergo an heart-by-pass operation...
Mam and Sir we h! av really a big problem regarding to financial needs... The doctors told us that my brother has a congenital heart problem and all of these conditions are all complications... Moreover the doctor told us that he has to be operated and cured as soon as possible or else we will loose him....
But it is not only his problem, if u can only see him, he looks abnormal... His body is not proportion... very thin hands and limbs but very big stomach b'coz he has a problem of his spleen adn there are plenty of water in his stomach............................
Madam i would realy like to ask a helping hand.. i hope u can help us just lik what you did with the other patients... mam and sir please dont ignore this we are realy in a big trouble and even catastrophe...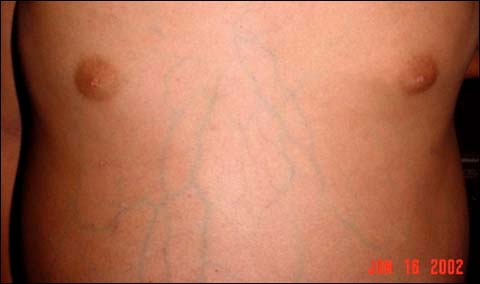 mam and sir please help us...Kayo na lang po ang malapitan namin... !! nagmamakaawa po kami na sana'y tulungan nyo po ang kapatid ko upang mapadali ang ang kanyang pagaling at pagbalik sa normal...

hihintayin ko po ang inyong kasagutan at ito po ang email ... Inaasahan ko po na matutulungan nyo kami sa problemang ito.... Maraming maraming salamt po!!! And i salute all of you for being a life saver!!!!!

hangang dito nalamang po at sanay matulungan nyo po kami... hihintayin ko po ang inyong kasagutan... Madalas na lamang po akong pupunta dit sa internet cafe para icheck ko ang email ko para tingnan ang inyong kasagutan...

Maraming salamat po!!!!!!!!!!!!!!!!!!!!!!!!!!!!!!!!!!!!!!!!!!!!!!!!!!!!!!!!!!!!!!!!!!!!!!!!!!!!!

Donn Ed Martin A. Abril
Dulag, Leyte 6505
Philippines
---

January 29, 2002:
The US-doctors evaluation of Dominque's case resulted in a negative reply. The secretary of Rotary/GOL New Jersey writes:
 "There is nothing we could possibly do within our foundation for Dominique. I wish we could, sorry".  /Erica
 
BOES.ORG has no resources to organize fund-rasing.
What can you do for Donn Ed Martin, to help his brother?
Don't wait! Act now! Contact Dominique's brother for some kind of assistance.

Send to:



BOES.ORG
Your message will be forwarded to Donn Ed
& we will send you his e-mail address

May 12
Our thoughts goes to Dominique Abril's brother, Donn Ed Abril and his family, and Dr Arnold
 
Update, incoming e-mail: Sun, 12 May 2002 15:28:58 +0800
 
"Good day to all!
I don't like to say this, but Dominique Abril died May 7 this year and was buried the other day. It's an intra-op mortality. Until now doctors haven't come up with a definitive diagnosis though we had some samples taken for biopsy. We appreciate very much this correspondence and the effort made for my nephew. Let's just all pray for his very young soul.
 
I remain..."
 
Dr. Arnold Abril, Tacloban, Philippines
 

---
 
From: Donn Ed Abril 13, Dominique's brother:
 
"Sir thanks for the concern u had regarding with this matter... but sadly to say that he is already gone..... he is already dead.... he died last May 7, 2002 at Cebu doctors hospital during his operation here in the Philippines.
So hard problem regarding with the payments in cebu doctors hospital..."
 
"He died bcoz of cardio pulmonary arrest and many more... thanks a lot.
bye..!!! waiting for ur reply....."
 
donn ed


"I no longer see the stars; I am the stars"


Date: Fri, 13 Sep 2002 22:54:29 -0700 (PDT)
From: donn ed abril
 
"... I hope that you will contin<<<<<<<<<<<iue ur being kind to others and continue to help other people in >>>>>>>>the globe.. Thank you and mabuhay and more power.................!!!!!!!!!
>>>>>>>>>>>>>>>>>>>>>>>>"
love
donn ed........

Date: Sat, 2 Nov 2002 17:35:51 -0800 (PST)
From: donn ed abril
 
"....yesterday we went to the cemetry to visit him.......>>>>"
 
"<<<< I just hope that he is fine in heaven and he is doing very well..>>>>>"
 
"<<<<<<<< thats all thank you and may god bless your organization and more power.!!!!!!"
 
<donn ed martin abril>