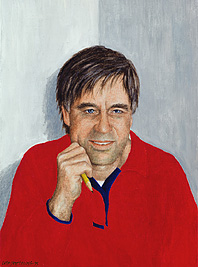 Leif Zetterling (selfportrait 1995).
Artist, designer & satirist.

Has designed more than 4000 books, covers,
campaigns, logos and posters for different companies.
Represented with an own room ­ The Zetterling
Room ­ in the Swedish Parliament Libray.
Styleanalyzis, The American Dream (animated
movie), My 70's, My 80's,
Nils Holgersson flies again, Profiler.
A weekly picture
in Aftonbladet Sunday.
The Zetterling Gallery

e-mail to: leif@zetterling.se