Arabic
Chinese
Danish
Dutch
English
Finnish
French
German
Italian
Japanese
Norwegian
Portuguese
Braz-Port
Russian
Spanish
Swedish
Turkish

September 18   Alice Mead, US writer  
"THE WAR IN KOSOVA
IS A WAR AGAINST CHILDREN"
What began as a low-intensity conflict in 1989 now threatens to consume the lives of over one million children who live in the province of Kosova, former Yugoslavia.
For nearly ten years, Kosova's Albanian children went without schools, books, sports, medical care, chlorinated water. Their families were forced apart by systemic abuse and economic hardship. Many children now in the parallel "high schools" have grown up in this apartheid situation.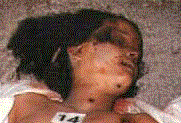 March, 1998. Full scale war broke out. The Serb soldiers entered village schools in western Kosova, sealing off exits, keeping terrified children imprisoned there for hours, while outside the villages were being looted and shelled. Families were given two minutes to vacate their homes. Albanian children often leave their shoes at the door. Barefoot and without coats or food, large groups of children fled for the hills supervised by small groups of older women and men. In April, it's cold in the Albanian mountains. It rained. The older men began to starve so that the children could eat what bread there was.
If they ventured over the mountains, they faced landmines and Serb snipers.
They also face possible lawless chaos on the other side. One girl, aged twelve, recalls how she had to eat bread and watch both her grandparents die of starvation during the four weeks she hid in the mountains. Another child describes the horror of hearing people you know being burned alive. "Please," she asked, "can you tell them not to bring the flame throwers any more?"
Doctors who met groups coming through the mountains in Tropoje say the people are disoriented, unaware of their surroundings, irrational, often refusing food. Some are totally withdrawn. All the children wake screaming in the night.
But we know all this. We know it from Bosnia. Only now part of the horror is that these are the same actors. Same unarrested criminals.
Kosova is small. The policy of the United States is one of hands-off. Save Bosnia and the Dayton Accord, save Macedonia. But Kosova isn't worth the possiblity of a protracted, slow dissolution of the former Yugoslavia.
Public pressure must increase. Public service announcements, demonstrations, phone calls to legislators, phone calls to the US State Department and Foreign Affairs offices. There is no choice. Because we know. We can't say we didn't.

Photo, the European Newspaper Koha Ditore
Alice Mead has traveled extensively in Kosova, Albania and Macedonia since 1984. Author of a work of fiction, Adem's Cross, published in 1997 by Farrar, Strauss and Giroux. A story of a teen-age boy forced to flee when ethnic violence afflicts his family. It's translated into German, Dutch, French and Swedish. Alice Mead lives in USA.


BOES.ORG Main INDEX
Related Pages & '98 Euro War Child Frame Set
Multilingual Human Rights / Children's Rights Across the World
Deutsch     Español     Français     Italiano     Other Languages