Lei Anne Pearl & Lyrize Julienne - Twins
Olongapo City, Philippines         Lifesaving Action

Latest Update, July 8, 2002

BOES.ORG/internetlifeline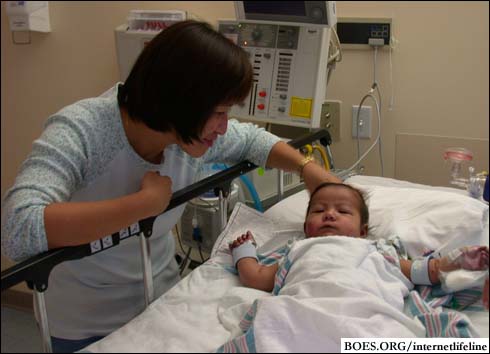 June 18 (Eastern Standard Time). Lyrize improves well after her shunt operation, she did have a bit of vomiting but all seems to be gone this morning. She was moved back to the regular floor in a room with LeiAnne. Depending on her blood work, Lyrize might be discharged tomorrow.



Friday June 21, 2002, 22:26:31 (Eastern Standard Time). Lei Anne Pearl, the second of the twins, had her surgery today. All went very well. Dr. Crooke was able to install the necessary shunt and also to repair her pulmonary arteries. She was in surgery for four hours, but was somewhat alert and awake by 6 PM tonight. She wanted to hold her mom's had, and she wanted a drink even though she is still on the respirator.



Mother Liza and baby Lyrize, went back from Montefiore Medical Center, to the hosting family, tonight. Lani also came "home" for the night, but will return to the hospital in the morning.



Lyrize looks very good. Her color is so much better and even the discoloration on her cheek, from the blood vessels that are too close to the surface there, looks much better than it ever has.
So happy to have them back from the hospital and looking forward to getting Lei Anne "home" soon also.



Each of the twins will still need another surgery. We think, in about one year.


Numb and in shock Both the baby sisters has been fighting for survival during so many months
For Lei Anne Pearl Escoton, too long and too hard.

Our Condolences to the Family of Lei Anne Pearl




 
Saturday June 22, 2002, 05:41:08 (Eastern Standard Time)
by Rotary GOL Chairman Andrew Topp:

I am sad to inform you that around 3:00 AM June 22, 2002, Leianne Escoton suffered cardiac arrest and could not be revived. Her mother Liza, auntie Lani, and myself went to be with her as soon as we heard she was having problems, Leianne passed on to be with our Lord and Savior, about 3:15 AM.

We are back from the hospital now, Lyrize is still doing fine, mom and Lani are trying to rest.
We will be working on Funeral arrangements sometime during the day, Saturday, and will inform you of all as we know it. Please keep all of the Escoton family in your prayers. /Andy



June 23 - Lani, the family representative, decided for their own privacy, not to disclose the twins' US medical records on Lei Anne's and Lyrize's website.



June 24 - Lani tells, Lyrize's next hospital checkup is planned for Wednesday.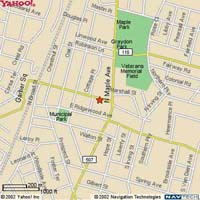 Please pass this note on to as many Rotarians and friends of Gift of Life, BOES.ORG and our project in cooperation, BOES.ORG/internetlifeline, as possible.



One of our children, Lei Anne Pearl Escoton, passed away early Saturday morning. She is survived by her twin sister, Lyrize who is in New Jersey with her mother Liza and her aunt Lani.



Visiting and a short funeral service at Feeney's Funeral Home, 232 Franklin Ave, Ridgewood, NJ.  Wednesday, June 26 from 7-9 PM with the service beginning at 8:30 PM.



June 28 - E-mail from Erica, N.J.  U.S. to BOES.ORG, based in Scandinavia:
"LeiAnne's funeral service was held last evening. About 75 people showed up. She was very beautiful in her white dress and bonnet, she looked like a little angel. It continues to be very difficult for aunt Lani and mom Liza, yet they are holding strong for Lyrize's sake."



"Lani wishes everyone to know that she feels not alone here at all and that she feel as if her entire family is here with her, for all the people and support that are around her. She again thanks everyone for all they have done and continue to do, but also asks for your continued prayers."



June 28 - From Erica about Lie Anne's sister, Lyrize:
"At Lyrize's checkup last evening, they found some residual fluid surrounding her right lung. She was admitted again to Montefiore today, and they inserted a chest tube as well as adjusted her Lasix and other meds. Depending on the amount of Fluid that drains, she could be discharge anywhere from tomorrow to Sunday or Monday. The doctors feel that this is left from the operation still and once drained should not be a problem."


"I no longer see the stars; I am the stars"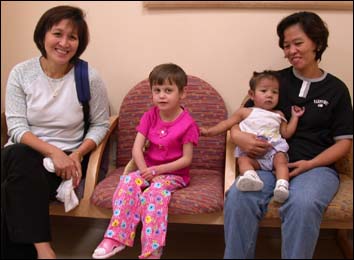 June 29 - Lyrize Escoton is back in the hospital with fluid built up in her chest cavity by her right lung. It was drained on Thursday, drain tubes removed Friday, her chest seemed clear, until today--Saturday afternoon the x-ray showed more fluid again. They are increasing the lasix and will check her chest again in the morning. Lyrize is in good spirits and seems fine otherwise. This fluid buildup is not unusual, we have seen it in a good number of kids before, for some time after surgery. Lani and Liza are, understandably, anxious to get out of the hospital.



June 30 - E-mail from Erica, Gift of Life NJ: "Lyrize is still in the hospital. After they removed the drainage tubes yesterday, another chest X-Ray was done the next morning and was found that all the fluid had again returned. The doctors were going to again adjust her medications and observe her over last night. Andy is over at Montefiore right now, and we should know more once her returns home. Through all, Lyrize continues to be in good spirits, and loves to eat!! All of us here, especially Lani and Liza, thank you for all the thoughts and prayers coming from around the world. They are definitly felt."



July 1 - Lyrize was discharged from Montefiore Medical Center last night. Although they know she still has some fluid in her chest, they are hoping that the Lasix she is on will drain that over the next few days. Her next checkup is on Wednesday. Lyrize is in very good spirits and continues to brighten everyones spirits.



July 7 - Lyrize's flight left July 6 at 12:35pm (Eastern Standard Time). They arrived Manila, Philippines 10 PM Monday (local time).