Danlee Suangco Serrano, aged 13
Date of Birth: November 20, 1989.   Philippines

Updates, January - February, 2003

BOES.ORG/internetlifeline

-Danlee wants to get this done so he can have a normal life



Jan. 3, 2003 - Danlee had his pre-testing today. He was scheduled for operation on Jan. 6, Monday. Dr. Crooke explained the operation to Merlinda and that the operation will take 4 hours. Danlee looked very courageous and did not display nervousness. He wants the operation to be over and done with so that he can play basketball and have a normal life.



Jan. 6 - Today is Danlee's operation day. He was scheduled to have to have his operation at 10:30a.m. but was brought in late, around 12:45p.m., because the operation before him took longer. Danlee was getting nervous until finally they took him in. Merlinda and the others were brought to the waiting room.



Finally at 5:45p.m. Dr. Crooke came and said that the operation went well. Merlinda was crying with joy. There was one concern, however, and that Danlee was bleeding through his chest tube which was more than they expected. However, the bleeding has already slowed when Merlinda finally saw Danlee at the Pediatric intensive care unit at 6:30p.m.



Merlinda saw Danlee with all the tubes and contraptions attached to him. His nails and toenails were pink, unlike before, and his peripheral pulses were strong. He had an overhead heater because during the operation, Danlee's temperature dipped. He was coming out of anesthesia and the nurses told Merlinda not to be afraid to touch Danlee and to talk to him so that he will respond. He was mostly asleep, waking for some time and sleeping again.



Jan 7 - Danlee was removed from the respirator today. The doctors said that he was recovering very well. However, the doctors noted that he was still reliant on oxygen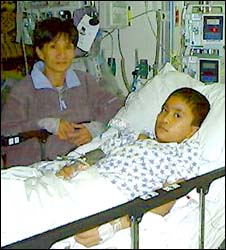 Jan. 9 - Danlee is doing quite well now but he is still reliant on oxygen which means when they take off the oxygen tube his Oxygen levels dip on the monitor. It is a concern but Danlee has to practice breathing to strenghten his lungs and that will cure this issue. Also Danlee has trouble holding down food and juices. They gave him medicine that will calm his stomach. Otherwise, Danlee looks good. He is still in the intensive care unit but the nurses and doctors say he is doing well.



Jan. 11 - Thursday morning. Danlee looks very good, sitting in a chair watching cartoons. His tubes are out. He also took a walk around the ICU unit. The nurse says they are going to move him out of the ICU unit tonight. Dr Crooke has now removed the heart monitor wires that were attached inside and stated that Danlee has to practice breathing without the machine.



Jan. 12 - Dr. Crooke gave the okay for Danlee to be released Tuesday. He is looking real good, but is anxious to leave the hospital.



Jan. 16 - This whole week, Merlinda and Danlee are staying with Sonia and Ira, Follow-up at Montefiore Medical Center will be on Jan. 23, with Dr. Crooke and Issenberg.



Jan. 23 - Danlee had his checkup at Montefiore and given the okay to go home. Planning for Feb 1st, Saturday.


Merlinda and Danlee's flight schedules:   Leave Newark via Delta Airlines 11:10 am on Feb. 1, Saturday.   Arrive Atlanta 1:28pm flight # 1119.



Leave Atlanta for San Francisco 4:15pm flight # 1967.   Arrive San Francisco 6:35pm, still on Delta Airlines



Transfers to Philipine Airlines flight # 105.   Leaves San Francisco 9:10pm.   Plane stops in Honolulu, then to Manila.   Arrives 5:55 am Feb. 3 Monday (Manila time).




Feb. 3 - Merlinda and Danlee arrived home safely.



Sorry, we never received the wanted "mother's diary-notes" from Merlinda Serrano, for daily updates.
Feb. 13 - she sent us following message:  "To whom it may concern.  This is Merlinda Serrano, the mother of Danlee Serrano saying all of you a big Thanks for giving your sufforts toward us by helping Danlee and achieve a new life, We never forget it in the rest of our life... Your time and efforts that you showing us is really give me a surpriced, Me and my Family extend thier gratitude toward all of this".  /Merlinda, Danlee's mother




 


Lifesaving in International Cooperation

By BOES.ORG
Children's Rights Across the World,
Scandinavia based

and Rotary International
District 7490
Gift of Life, U.S.

Hospital:
Montefiore Medical Center, NY

Surgery sponsor:
Ridgewood Noon Rotary Club