Arabic
Chinese
Danish
Dutch
English
Finnish
French
German
Italian
Japanese
Norwegian
Portuguese
Braz-Port
Russian
Spanish
Swedish
Turkish

SOS - Vijit
Subject: My son too has a problem

Dear Sir,
It is as if this article of Shao-Shao in the Reader's digest is God sent to me.


UPDATE INFORMATION !!

Vijit had surgery at Cedars Sinai Hospital in Los Angeles.
This was realized through donations from friends, and support from the association "Healing the Children".
His surgery was a success.
Punita Singh, Vijit's mother, informed us November 2000, Vijit's now well.

From the last 7 years, we have running in and out of hospital, done a number of catherisations.
I need to fight for dear Vijit's life as he is a fighter. He has gone though all his surgeries with a smile and never any tears.
A CRY TO HUMANKIND
IN ORDER TO SAVE THE PRECIOUS LIFE OF OUR DEAREST SON, VIJIT SINGH, WE MAKE AN EARNEST APPEAL TO ALL.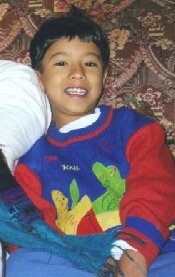 My husband Rohan and I met at Bombay during the course of our studies at the Institute of Hotel Management I married young. We were blessed with a baby boy - Vijit in July 1992.
Little did we realize our joy would be short-lived. Vijit was a blue baby. Exhaustive medical tests revealed VSD, Pulmonary Atresia, PDA etc.
Immediate intervention was needed at that stage. Dr. K.M.Cherian thus performed the first surgery at the age of 3 months at the Madras Medical Mission. Being in the threshold of our careers, the treatment cost began taking the toll on us. Family and friends came forward to support us during this initial surgery.
By God's grace Vijit got a new lease to live, for the time being atleast. In 1997, he was to undergo a complete correction by way of an open-heart surgery, his second surgery. We ran from pillar to post and arranged for loans as even the pastoral services at the hospital agreed to a partial waiver in costs. The doctors said that this should make Vijit healthy for life.
But fate had other plans. After a struggle in the ICU for 11 days and recovery for 3 weeks in the hospital, within six months, his heart started malfunctioning again. At this stage another intervention was necessary. Thus the third surgery was performed at Madras Medical Mission at Chennai in August 1999. This surgery has however failed and we are advised to arrange for the same abroad, preferably at USA.
By now we are completely drained of all resources as we have spent close to RS 7 lacs for Vijit's treatment in the last few years. But the laughter on dear Vijit's face and his dreams for a tomorrow, with a will to survive against all odds, breaks our hearts at not being able to help him.
He has to be operated upon abroad, by the stenting procedure. The likely date of our departure would be around 4th September 1999. We kindly request all possible discounts from your end to help us reach the doctors in USA.
Could you find it in your heart to help us realize Vijit's dream of Life? Vijit means victory in Hindi. You all could help us make this come true
Thank you
Punita Singh


Send to:

Subject:
BOES.ORG
Your message will be forwarded.
"India Forward"

BOES.ORG Main INDEX
The 1st Internet Lifeline started October '97
Multilingual Human Rights / Children's Rights Across the World
Deutsch     Español     Français     Italiano     Other Languages